This blog originally ran on the Linux Foundation EU Newsroom. For more content like this, click here.
Linux Foundation Europe proudly hosted its first annual Member Summit! This milestone event marked its inaugural year, bringing together LF Europe participants for an unforgettable gathering. The summit served as a groundbreaking platform for fostering collaboration, open innovation, and strategic partnerships among individuals and organizations in the private and public sectors. All participants worked collectively to advance digital transformation through the lens of open collaboration. This blog recaps the key moments and must-see sessions from the 2023 Member Summit.
Opening Keynote: State of Linux Foundation Europe
The event commenced with an insightful keynote address by Gabriele Columbro, General Manager of Linux Foundation Europe and Executive Director of FINOS. He provided a comprehensive overview of LF Europe's current state and future prospects, setting the stage for what is to come.
Protecting Wildlife with OpenCollar Devices Running Zephyr RTOS
Luka Mustafa, Founder and CEO of IRNAS Institute for Development of Advanced Applied Systems, delved into the vital issue of wildlife protection. He explained how open source technology, particularly Zephyr RTOS, plays a crucial role in creating OpenCollar animal trackers and sensors. These innovative devices are designed to combat poaching and protect endangered species.
Panel Discussion: Open Source as a Game Changer for Sustainable Industry Transformation in Europe & Beyond
A panel discussion featuring Rimma Perelmuter (VP of Strategic Growth of FINOS & Linux Foundation Europe), Mark Lane (Head of Software Engineering Centre of Excellence, Lloyds Banking Group), Lucian Balea (Deputy Director of R&D and Open Source Director, RTE), Philippe Ensarguet (VP of Software Engineering, Orange) and Philipp Ahmann (Product Manager, Bosch) delved into the role of open source collaboration in driving digital transformation across various industries. They discussed how open source initiatives can address common challenges and foster industrial growth and sustainability in Europe and beyond.
Linux Foundation Europe & Global Project Updates
Representatives from various projects, including Sylva, OpenNebula, LF Energy, OpenWallet Foundation (OWF), Agstack, Servo, and RISE, provided updates on their respective initiatives. These projects spanned a wide range of fields, from telecommunications to energy systems, agriculture, and web rendering engines, highlighting the diverse impact of open source technologies.
Project Setup and Hosting in LF Europe
The LF Formation Team and Mirko Boehm (Senior Director, Community Development, Linux Foundation Europe) explored options for project setup and the advantages of hosting projects within Linux Foundation Europe.
Hilary Carter (SVP, Research and Communications, Linux Foundation) discussed two Europe-focused research reports,, highlighting their significance to Europe in terms of sustainability, contribution, and security.
Outcomes of Open Source Congress
Hilary Carter and Mirko Boehm  shared key outcomes from Open Source Congress which took place in Geneva in July. The talk described the origins of the gathering, the issues on the agenda, and the current state of global collaboration across open source organizations. 
Mirko Boehm followed with an update on European Union (EU) policies impacting open source and the technology industry. This session shed light on the evolving regulatory landscape and its implications for the open source community.
Better Together: Strategic Partnerships and The Linux Foundation
Robert Reeves (VP of Strategic Partnerships, Linux Foundation) emphasized the importance of strategic partnerships in advancing the goals of the Linux Foundation, and encouraged prospective partners to join us in supporting our mission.
Panel Discussion: Why Open Source AI Matters: The EU Community & Policy Perspective
A lively panel discussion tackled the significance of open source AI, its benefits, risks, and role in EU policy. The discussion was led by industry players and policymakers Justin Colannino (Director, Developer Policy and Counsel GitHub), Astor Nummelin Carlberg (Executive Director, OpenForum Europe), Ibrahim Haddad (Executive Director, LF AI & Data and PyTorch Foundation), Sachiko Muto (Chairman, Senior Researcher, OpenForum Europe, RI.SE), and Stefano Mafulli (Executive Director, Open Source Initiative)
Looking Ahead: The Future of LF Europe
The event concluded with Gabriele Columbro providing insights into the future of Linux Foundation Europe, setting the stage for further innovation and collaboration.
Attendee Reception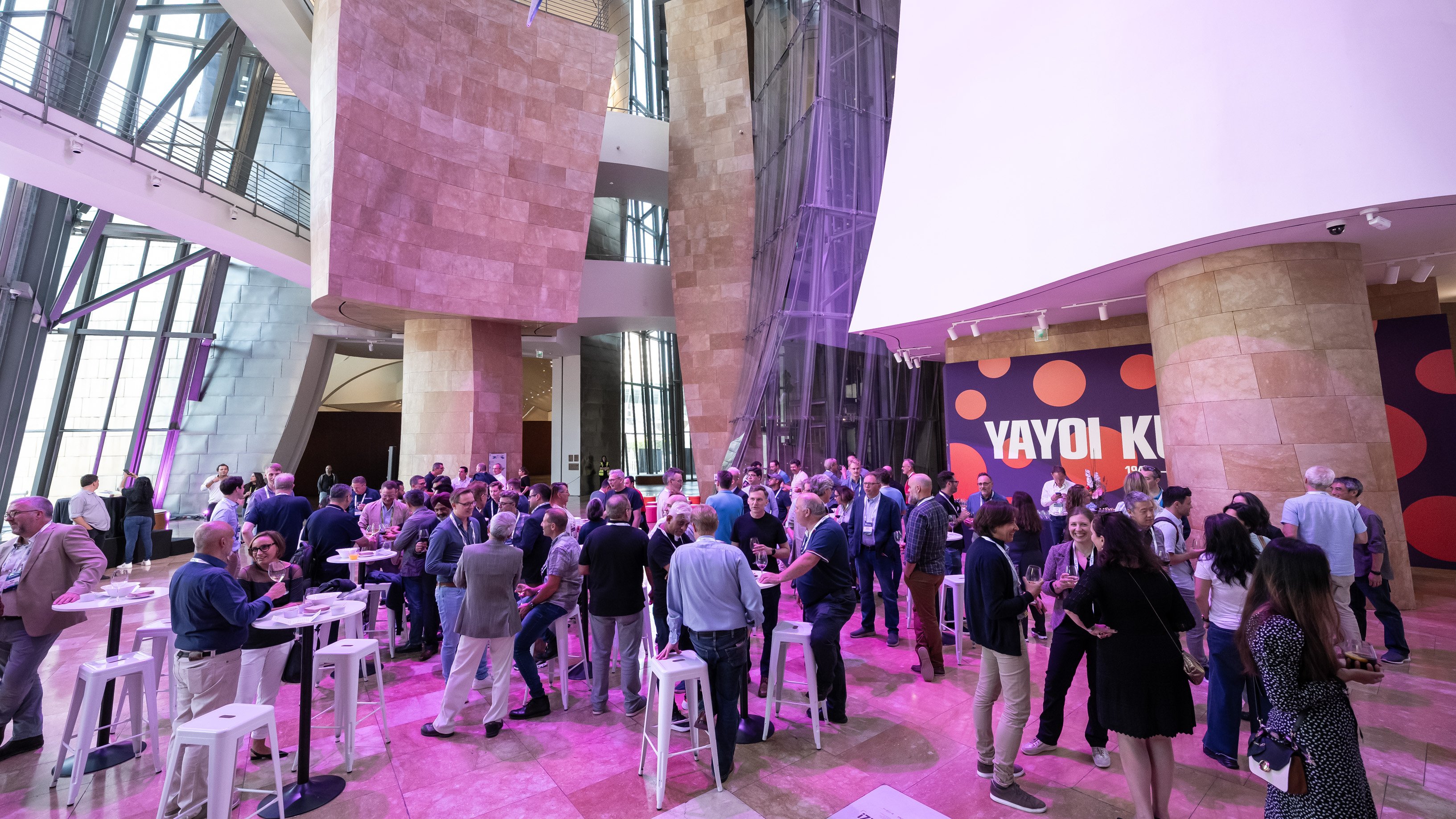 LF Europe members were treated to an exclusive reception at the Guggenheim Museum Bilbao, featuring a special celebration for the Linux Foundation Europe's 1st anniversary. The event included a cake-cutting ceremony, a sumptuous array of foods and drinks, and an opportunity for attendees to explore the museum's exhibits.
The Linux Foundation Europe Member Summit 2023 was an informative and inspiring event that brought together leaders, innovators, and enthusiasts from the open source community. It highlighted the pivotal role of open collaboration in driving digital transformation and sustainability across various industries in Europe and beyond. We thank all who joined us, and look forward to reconvening again in the future.
For information about becoming a member of LF Europe, please get in touch with us at info@linuxfoundation.eu.